Triumph for Sale in United States
There are
86
Triumph motorcycles
for sale today. Latest new, used and classic
Triumph
motorcycles offered in listings in the United States. See such popular models like
Triumph Bonneville, Triumph Tiger, Triumph Daytona, Triumph Thunderbird, Triumph Trophy
and more. XXXX Triumph XXX Trophy is for sale in perfect working condition. has nice paint and chrome and guards are Stainless steel, mufflers are in perfect shape. asking $X,XXX ...

United States
Triumph
/
T100C
Year:
1970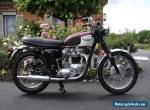 XXXX Triumph TXXXR Bonneville in excellent and great condition. It original with paint. Price is $X,XXX ...

United States
Triumph
/
Bonneville
Year:
1967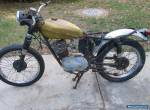 Hi-the good; matching #s XXXX Triumph Mountain cub.Tank good-no rust inside.Oil tank good.Counter shaft sprocket moves.Gear return actuates.Good side stand and center stand.Good speedo.Right carb missing a few parts. the bad; piston seized in rusty barrel.wrong head but head is very ...

United States
Triumph
/
T20 Mountain Cub
Year:
1965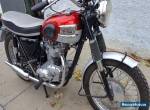 This is very nice XXXX Triumph TRXR, purchased this Motorcycle from the Private collection of MOM's South, He had this bike restored about XX years ago and then displayed it in the show room of his store. At the time the motor and transmission were rebuilt, the frame and sheet metal were all painted ...

United States
Triumph
/
Trophy
Year:
1964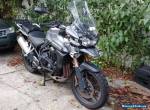 Selling my anthracite grey XXXX Triumph Explorer. The bike runs great. Loads and loads of torque and power. Muscular triple cylinder engine, worry-free shaft drive. If you do sport touring but prefer naked bikes this one is for you. Best stock seat and ergos among full size Enduro bike ...

United States
Triumph
/
Tiger
Year:
2012
have made this bike into giant killer. It has serious engine work, suspension work, wheels, brakes all culminating in substantial weight loss and increase in power. You can run with the Big Dogs if ya want to! This bike is on XX scale!XX,XXX miles on the bike, XXXX on engine refresh, XXXX on Front ...

United States
Triumph
/
Thruxton
Year:
2010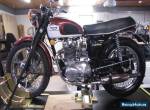 This is beautifully restored low mileage Daytona. I have owned it for just over year. I did some petting and polishing and tuned up the carbs. It needs absolutely nothing. I always thought these were nicer than the more popular Bonnevilles, because they are lighter and nearly as powerful. I am ...

United States
Triumph
/
Daytona
Year:
1972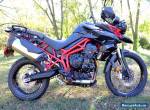 Lightly used Triumph Tiger XXXXC SE for sale. This trim was only available in XXXX and looks great! Only X,Xxx miles and always garage kept. My priorities have since shifted and it's time to let this beautiful bike go to somebody who will enjoy it. It's in near perfect condition with minor blemish on ...

United States
Triumph
/
Tiger
Year:
2014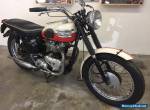 Very nice, one owner TRX. bought this from the estate of the original owner couple years ago with the intent on doing show restoration, but the bike was so original decided not to take it apart. Title from XXXX in the first owner's name. did start the bike, and it runs as it should, no smoke or weird ...

United States
Triumph
/
TR6A
Year:
1959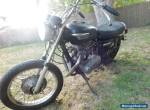 This is XXXXTriumph t-XXX with clear title. Has been sitting for long time so it will need fully restored. Should make nice project. matching numbers. $XX Due at end of the sell. ...

United States
Triumph
/
Bonneville
Year:
1973