Buell for Sale in United States
There are
12
Buell motorcycles
for sale today. Latest new, used and classic
Buell
motorcycles offered in listings in the United States. See such popular models like
Buell Blast, Buell Thunderbolt, Buell 1125R,
and more.
...

United States
Buell
/
1190rx
Year:
2014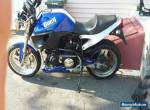 For sale is my XX Buell XX Lightning. It has two new tires this season as well as new battery and brakes. New plugs and fluids too. It's daily driver and comes with everything you see in the picture plus some extras. The previous owner converted the bike over to carburetor but have managed to track down ...

United States
Buell
/
Lightning
Year:
2001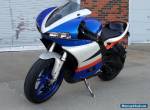 XXXX Buell XXXXR American made Superbike for Sale! A very unique bike not typical rice burner she has own distinctive sound even different from the others of the same breed.Clean Missouri title It has been garage kept and never dropped. The bike stance and seating position is ergonomically ...

United States
Buell
/
1125R
Year:
2009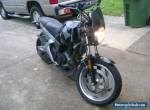 Hello All We are selling very nice and very clean(few scratches) with only XXXX miles this is owner bike that was donate to charity, and we purchased from charity and now offering for sale. The bike starts right up and rides nice. There are scratches and small tear on side of seat. The pics can say ALLOT ...

United States
Buell
/
Blast
Year:
2006
Buell XX SX lightning for saleXXXX Buell Lighting for sale. This bike was bought for my son to rebuild. Due to college and work, we are selling his project bike. This bike does run but needs new pistons and cylinders. The bike has over XX,XXX miles on it. Some parts have been taken off but kept wrapped, ...

United States
Buell
/
S1 Lightning
Year:
1998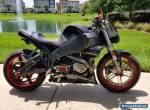 This bike is not beginners bike, the X,XXX V-Twin has had some upgrade work done to it and it is pure torque machine that wants to go. had race shifting put in and flipped the gears, D&D pipes, just serviced and had the stator replaced as well. All factory plastic has been replaced with carbon ...

United States
Buell
/
Lightning
Year:
2007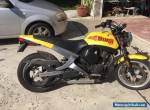 this just came in on trade.XXXX Harley Davidson buell blastXXXcc singleclear hd title in handcarb rebuilt, new battery, runs and rides great, custom exhaust, very cool bike and ready to ride. listing it at no reserve, Get on and go bike!any questions please call XXX-XXX-XXXXif you need shipping ...

United States
Buell
/
Blast
Year:
2001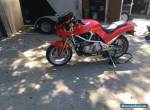 Great condition. New tires this past spring with around XXX miles on them. New front wheel bearings. Fresh oil and filter last week.Very fun to ride. ...

United States
Buell
/
Thunderbolt
Year:
1995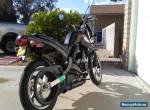 Please Note: There is not BEST OFFER feature for this offering. The price is great value compared to others offered on eBay, even with third party shipping. will answer sincere questions about this motorcycle. Made in USA by Harley Davidson. Garage kept, adult ridden. New rear tire (Pirelli) and ...

United States
Buell
/
Blast
Year:
2003
...