KTM for Sale in United States
There are
21
KTM motorcycles
for sale today. Latest new, used and classic
KTM
motorcycles offered in listings in the United States. See such popular models like
KTM SX, KTM Adventure, KTM EXC,
and more.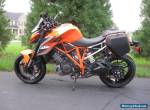 XXXX KTM Super Duke in showroom condition. Never dropped -garage kept. One (XX year old) owner and rider. KTM bags included, one bag has small burn spot from exhaust. Bags can be removed in seconds. Clearwater Glenda lights with on-off & dimmer and amber lenses included. Smoke windscreen ...

United States
KTM
/
Super Duke
Year:
2015
XXXX KTM Duke up for sale. Just over Xk miles. Excellent condition. The bike is ton of fun to drive, you will not be dissapointed. Has alot of torque, of course the most piwerful single cylinder would right. Original ktm racing colots, Orange and BLACK. This is your chance to buy Brand new Duke for ...

United States
KTM
/
DUKE
Year:
2017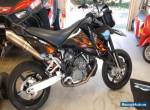 Clean bike, runs great. Comes with KTM tank bag, Rottweiler intake with carbs jetted. Sounds great, but not obnoxious. Pulls hard! Valves recently checked. These motors go XX-XXXk before needed rebuild. Very quick and agile bike. Look up some reviews... Comfortable upright position. Just ...

United States
KTM
/
Other
Year:
2007
This is really fun motorcycle. recently put on the exhaust, think it sounds really good now. have the upgraded KTM Power Parts seat, black Renthal handlbars, and Heidenau KXX Scout tires. It comes with all of the stock parts and brand new set of Michelin Pilot Power tires. do have the stock exhaust, ...

United States
KTM
/
Other
Year:
2013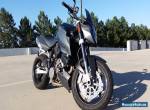 Extremely clean, garage kept, reliable, and incredibly fun to ride KTM. Not great motorcycle for entry-level riders. This V-twin has lot of torque, is very light, and it will try to wheelie on you without hesitation. ??? Oberon slave cylinder installed May XXXX??? Xnd-Xrd ...

United States
KTM
/
Super Duke 990
Year:
2007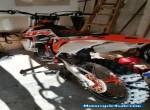 Excellent condition, XX hours on meter, well maintained, never raced, trail ridden, orange hubs, front suspension work done, map switch ,garaged kept ...

United States
KTM
/
Other
Year:
2015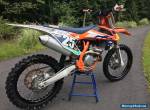 For sale is my XXXX KTM XXXSXF-FE. This is out of XXX of the first XXX factory editions that were imported into the US. The XXXX model also happens to be the only XXX FE to date with the RedBull KTM Livery. I am the first and only owner, and have meticulously maintained this bike above and beyond ...

United States
KTM
/
SX
Year:
2016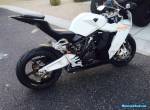 I have very nice XXXX KTM RCXr in the rare flat white color! This bike has been always maintained and taken care of!!I absolutely LOVE this bike, but bought a house and have decided to sell it. Brand new tires on front and back, maybe XXX miles on them! also have jackets, gloves, and helmet will throw in! ...

United States
KTM
/
RC8r
Year:
2010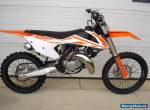 XXXX KTM XXXSX. Only hours! Perfect conidtion! KTM recommended Jet Kit installed. ...

United States
KTM
/
SX
Year:
2017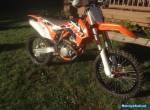 XXX sx-f in great condition,very low hrs,clean,got aftermarket hubs (ktm orange)runs as should, no disappointments here,call or text for questions,bike is for sale locally reserve right to end auction at any time,XXX-XXX-XXXX Lou,has slight dent on header pipe doesn't effect running of bike ...

United States
KTM
/
SX
Year:
2015