Boss Hoss for Sale in United States
There are
4
Boss Hoss motorcycles
for sale today. Latest new, used and classic
Boss Hoss
motorcycles offered in listings in the United States.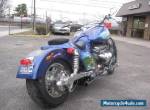 XXXX Boss Hoss Super Sport zzX XXXhp XXX chevy. This was raffle bike given away at the Daytona bike rally to benefit B.A.D.D. The winner immediately sold it to the Xst owner. am the second owner. David Bowie signed the tank with lyric and signature. (Ozzie also signed the bike but the Xst owner removed ...

United States
Boss Hoss
/
zz4
Year:
2004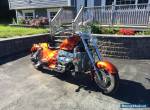 XXXX Boss Hoss Custom bike, XXX ZZX VX, automatic forward and reverse gears, custom house of colors paint, comes with matching helmets, rear seat, custom roll bar. Bike in excellent condition. Delivery available for right price. ...

United States
Boss Hoss
Year:
2001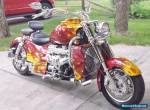 XXX HP AutomaticTransmission Always fullydetailed. EXTREMELY wellmaintained.X Speed Automatic$X,XXX in options/ AdditionsCustom PaintWindvest WindshieldXXW HID HeadlightChrome Air DamsNew Spark Plug wires & Chrome LoomChrome License plate bracketChrome Crash BarsChrome ...

United States
Boss Hoss
/
ZZ4
Year:
2007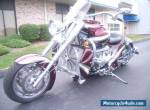 The heart of this bike is an aluminum XXXci Chevy small block that pumps out XXXhp and XXXlb/ft of torque. But on top of that it is also gorgeous bike with ton of extras. Only XXXX miles. OptionsKewlMetal front endXX" Big Ass WheelsXXX Section Rear TireAir RideStretch TankChrome Crash Bars and ...

United States
Boss Hoss
/
408CI 525HP
Year:
2010