Honda VTX for Sale in United States
There are
11
Honda VTX
for sale today. Latest new, used and classic
Honda VTX
motorcycles offered in listings in the United States. See such popular models like
Honda CB, Honda Gold Wing, Honda CBR, Honda CR, Honda CT
and more.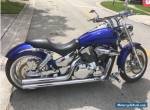 XXXX honda vtx XXXX low miles, garage kept,sumox fat tire kit,progressive suspension,tribal flame forward control,custom seat,cobra exhaust,custom air intec,lot of chrome .over XXXX in extras, ...

United States
Honda
/
VTX
Year:
2005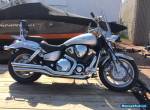 Bike has been in an front end accident. Motorcyclist rear ended car. Forks are bent, Tripple tree is bent, Frame has broken at the top of the triple tree. possibly can be rewelded. There is also dent in the tank. see pics for other broken or bent items. There are XXk miles on bike and clear paperwork. ...

United States
Honda
/
VTX
Year:
2006
This beautiful Honda VTX XXXX was donated to our Non-Profit Mission Ministry and is being sold to benefit people who have been hardest hit by hurricanes this month. XXX% of the selling price will be sent to Hurricane victims outside the U.S. low reserve has been set and we expect it to be met so bid ...
Honda VTX XXXX with Cobra exhaust, Mustang Seats including driver backrest. Rear seat is quick removal. Passenger seat is quick removal as well as passenger backrest. Go from Solo to passenger in minutes. Saddle bags are quick release clip on Kentucky bags. Passenger mini floorboards. New rear ...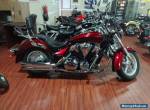 XXXX HONDA VTXXXX STATELINE..NICE CLEAN BIKEWITH XXK MILESBIKE RUNS AND DRIVES GREATANY QUESTIONS FEEL FREE TO CALL DEALERSHIP AT XXX-XXX-XXXXBIKE CAN BE SHIPPED IF NEEDEDA XXX.XX NON-REFUNDABLE DEPOSIT DUE AT THE END OF AUCTION AND THE BALANCE WITHIN DAYSTHANKS FOR LOOKING ...

United States
Honda
/
VTX
Year:
2010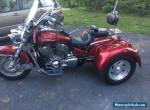 ...

United States
Honda
/
VTX
Year:
2003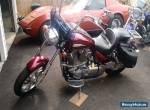 VERY NICE CLEAN LOW MILES NEVER ANY DAMAGE. HAS THE ORIGINAL HANDLEBARS AND EXHAUST THAT GOES WITH. RIDE AS IT SHOULD. XXX-XXX-XXXXOn Aug-XX-XX at XX:XX:XX PDT, seller added the following information:LOWERED RESERVE PRICE BID NOW AND WIN ...

United States
Honda
/
VTX
Year:
2006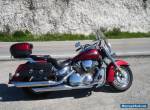 XXXX HONDA XXXX VTX S. with very low XX,XXX miles. Leather saddle bags, touring trunk and sissy bar included. Full service at XX,XXX miles. Great buy. Nothing to do but ride this reliable, fun motorcycle. Owner is mature adult rider. Always garaged and cleaned after every ride. Current clear CA ...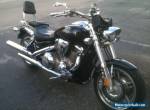 Garage kept excellent condition. bought this from the Original Owner months ago. Has bunch of chrome custom parts, including front mount for removable windshield. I put chrome sissy bar on it for the Mrs. and new front and rear tires at XXXX miles. Oil changed at the same time. We were always Harley ...

United States
Honda
/
VTX
Year:
2007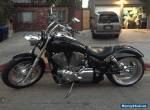 Thunder Dino jet kitProgressive suspension -- adjustableXXX series cruiser shocksXtreme revolution deluxe Side mount license holderSlim cat eye LED lights in front and backCobra pipesPhat contour mirrorsOriginal two up seatX seatChopped rear with specialized fenderEngine sounds pretty ...