1976 Bultaco
Motorcycle location

:

Riverside, California, United States

Sell Motorcycle in Riverside, California, United States
Sale type: Private Seller
WARNING! BEWARE OF SCAMMERS!
MOTORCYCLE4SALE DOESN'T TAKE ANY RESPONSIBILITY FOR ANY SCAM ACTION.
BUY RESPONSIBLY!
Technical specifications, photos and description:
| | |
| --- | --- |
| Condition: | Used |
| Year: | 1976 |
| Mileage: | 1 |
| Engine Size (cc): | 350 |
| Manufacturer: | Bultaco |
| Vehicle Title: | Clear |
| Got questions? | Ask here! |
Sell

Bultaco

Motorcycle in Riverside, California, United States
Do you like this Motorcycle?
1976 Bultaco for sale
Current customer rating:

(3) based on 33 votes
XXXX Bultaco Sherpa XXX
Many modifications and aftermarket parts. It's been in our family since the early XXXX's. Comes with the factory manual and stock swingarm. Needs some TLC. It has been in storage for many years and has not been started, but it ran when it was put away. have been told the modifications to the bike were to make it perform like and resemble Bernie Schreibers factory Bultaco. can't find the title so bill of sale only.
Perfect for vintage trials matches.
- Aluminum swingarm- Fox Shocks- Frame modification w/ aluminum skid plate for more ground clearance- Plastic gas tank- Answer bars
Also published at eBay.com
Sell

Bultaco

Motorcycle
Other Bultaco motorcycles offered via internet auctions: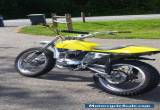 price US $610.00
1971 Bultaco LOBITO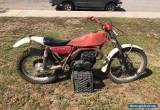 price US $0.99
1976 Bultaco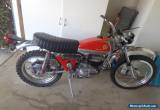 price US $2,025.00
1971 Bultaco
Latest arrivals:

US $610.00

US $0.99

US $2,025.00