Harley-Davidson Dyna for Sale in Canada
There are
134
Harley-Davidson Dyna
for sale today. Latest new, used and classic
Harley-Davidson Dyna
motorcycles offered in listings in the Canada. See such popular models like
Harley-Davidson Touring, Harley-Davidson Softail, Harley-Davidson Sportster, Harley-Davidson Dyna, Harley-Davidson VRSC
and more.
XXK or Option to take over my payments on myHarley Davidson which is $XXX per month and $X,XXX up front OBO. It's in mint condition. Less then X,XXX mileson it. Brand new Vance and Hines short shots pipes with an intakeand tuner, forward controls and new levers. LED Halo headlight and LED ...

Canada
Harley-Davidson
/
Dyna
Year:
2016
XXXX Harley Davidson Dyna Street Bob. XXXX miles. XXXci vtwin with speed trans. Harley Forward ControlsSikpipes Octane Pipes (sound awesome)Removable passenger seatPassenger pegs. Always stored inside. No issues. This bike is available for Harley Owner to Buyer Financing. Cool easy ...

Canada
Harley-Davidson
/
Dyna
Year:
2015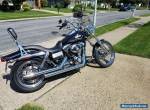 vivid black removable windshield wide tire kit on the rear screaming eagle upgrade for the exhaust straight pipes all servicing done by the dealership paper work included almost all of the mileage is open highway sweet ride for someone looking for dependable motorcycle ...

Canada
Harley-Davidson
/
Dyna
Year:
2007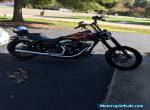 XXXX Harley Dyna. Bike is basically brand new. The bike has no problems I'm just selling because need the money. ...

Canada
Harley-Davidson
/
Dyna
Year:
2012
Selling my Harley CVO anniversary model. One owner bike from new. Bike is gorgeous, cannot fault this bike. Comes with windscreen, led headlight, riding lights, crash bars, XXXXcc motor, keys, Harley security system, XX% on tyres, new brakes, new battery, has original owners manual, and comes ...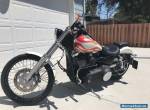 XXXX FXDWG Dyna Wideglide. Well maintained and in great shape, serviced at the local dealer. Has X,XXX miles on it. Paint is Morocco Gold Pearl with Flames. Looks white but has lot of gold pearl in it, paint is in great shape with no major nicks or scrapes in it. Sissy bar set up is for quick detach HD or ...

Canada
Harley-Davidson
/
Dyna
Year:
2014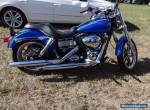 Kelly Blue Book on this model is well in excess of X,XXX which does not include the X.XXX CVO tins and extra chrome. This bike has less than XX% of the mileage of most XXXX models.This bike is pristine and has no scratches of any of the "paint" or "chrome" surfaces !!!!!!!!!!!The ...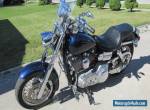 I have XXXX Harley Davidson Dyna Super Glide motorcycle. It has lowering kit and too many extras to mention. XXXX cc motor. Clean title. The mileage is unknown the speedometer says XXXX.X, but I wonder about that. Speedometer does work. It has forward controls, flamed shifter, brake lever, and ...

Canada
Harley-Davidson
/
Dyna
Year:
2001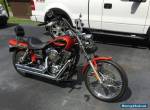 XXXX Harley Davidson Dyna Wide Glide. Candy Orange and Black. XX CI, XXXX CC, EFI Engine. X,XXX actual miles and original owner. Vance & Hines custom pipes.Harley Davidson flex lines, custom mirrors, bullet headlight, grips, foot pegs, and other HD custom parts. Original parts come ...

Canada
Harley-Davidson
/
Dyna
Year:
2005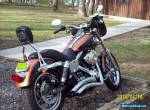 Like new garage kept never seen rain Extremely low miles only (X,XXX)Fuel injected XX" Twin Cam motor and speedtransmissionVance & Hines Pipes Arlen Ness Grips Sissy barWindshield (Quick Disconnect)Beads in front tire for best balancingNew front and rear engine mountsNew fuel ...