BSA for Sale in Canada
There are
27
BSA motorcycles
for sale today. Latest new, used and classic
BSA
motorcycles offered in listings in the Canada.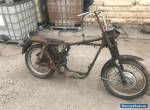 FOR SALE XXXX BSA ROCKET PARTS BIKE, LOTS OF GOOD PARTS HERE AS SHOWN NO OTHER PARTS NO TITLE ROLLING CHASSIS ...

Canada
BSA
/
Rocket 3 A75 A75R
Year:
1969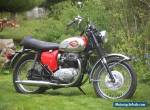 ...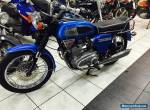 XXXX BSA ROCKET XTHIS IS FULLY RESTORED BSA ROCKET USING ORIGINAL BOLTS AND PARTSTHE BIKE HAS SOME MODERN UPGRADES INCLUDING TRI SPARK IGNITION. FIVE SPEED GEARBOX AND LUCAS INDICATORS FITTEDTHE WHEELS HAVE BEEN REBUILT WITH THE SPOKES RE CAD PLATED. THE HEAD HAS NEW VALVES AND GUIDES.NEW ...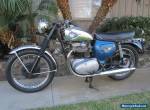 Offered is nice XXXX BSA Thunderbolt, single carb. XXXcc motorcycle. This bike is unrestored and does show some wear and tear from it's XX years of service. I purchased this bike nearly XX years ago, registered it and rode it around for while. It blew head gasket and put it in my shop where it promptly ...

Canada
BSA
/
Thunderbolt
Year:
1966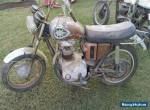 XXXX BSA LIGHTNING£ .THIS BIKE WAS FOUND IN BARN HERE IN NC WHERE IT SAT SINCE THE EARLY XXS. IT LOOKS TO BE PRETTY COMPLETE, MINUS SOME ENGINE PARTS AND PIPES. IT IS VERY RARE, HARD TO FIND BIKE. SEE PICS FOR WHAT IS INCLUDED. SEE PICS.THE BIKE IS BEING SOLD AS IS WHERE IS. NO TITLE. THERE IS NO ...

Canada
BSA
/
LIGHTNING A65 650
Year:
1971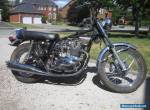 content="3600.0"US $3,600.00
XXXX BSA Rocket AXXR pulled from basement of church, engine and frame numbers are matching, also both halfs of crankcase casings #'s match, motor moves freely with compression, gears shift OK, has front and rear end from XXXX's Trident. Engine cases, rocker boxes and other parts are chromed see ...

Canada
BSA
/
Rocket III
Year:
1969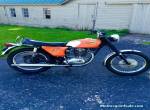 content="3750.0"US $3,750.00
This is very nice original BSA XXX Shooting Star. The engine is similar to the XXX Victor but the bodywork and exhaust is different. This has the low exhaust pipe and this model seems to be little more rare that the Victors. It is all original, except for batteries and tires, and in great shape. have ...

Canada
BSA
/
441 SHOOTING STAR
Year:
1968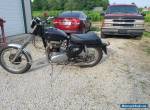 content="1999.99"US $1,999.99
have XXXX BSA lightning for sale. The bike has sat for few years and don't know lot about it but it does kick over strong still. Its in decent shape for XXXX. do have clear Indiana title in hand. Please let me know what questions you have and feel free to call me ...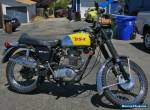 content="4100.0"US $4,100.00
This is very original matching numbers (see pictures) BSA XXX Victor Special that found to be in need of cosmetics and electrics. have done what consider to be light renovation. The tank was pulled, polished and repainted. New decals were affixed to the tank, side cover and oil tank. The horn and ...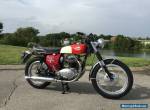 content="7700.0"US $7,700.00
...

Canada
BSA
/
A65 Spitfire Mark III
Year:
1967