KTM for Sale in Canada
There are
48
KTM motorcycles
for sale today. Latest new, used and classic
KTM
motorcycles offered in listings in the Canada. See such popular models like
KTM SX, KTM Adventure, KTM EXC,
and more.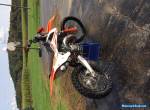 For sale XXXX KTM XXX SX XX hrs, pistion rings and reeds chain and sprockets changed at XX Hrs, race tech suspension ...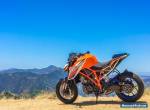 XX' SDRXXXX XXXXmiles, ABS rings to correct speedo fitted at XXXX milesAkra Evo full Exhaust systemPP Gel seatPP graphicsOEM white shroudsPP solo seat coverPP Carbon Fiber Front & Rear fenderPP Carbon Fiber Gas cap surroundPP gas capDriven Carbon Fiber super bike barsXXX fly ...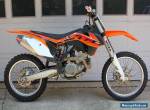 XXXX KTM XXXSX-F with clean Texas title. The XXXsxf is the best is the best XXX class bike on the planet, fuel injection, electric start, this bike is ready to run. Mods include, Yoshimura exhaust, Excel rims, ARC levers and ENZO suspension, good set of Dunlop tires, this bike also sports Brembo ...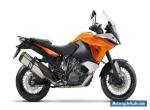 Year: XXXXMake: KTMModel: XXXX AdventureBrand new bike, no miles, XX month XXXXX mile factory warranty. MSRP $XX,XXX Please email or call Dan with any questions. Orange or Grey available today.Financing available to qualified buyers, email for information. please call us for pricing and rate ...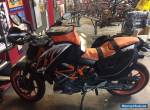 This bike is set up for short person, however we do have the original seats, etc. to change out for larger person. Tank bags and saddle bags included.This is very low mileage bike, garaged. ...
XXXX KTM XXX Enduro. Excellent condition, everything works. Needs nothing. If you're looking for like-new bike, this is it.X,XXX milesClean and clear title in my nameX keysOwners manualRegistered and Inspected. Sticker good until XX/XXXXEngine parts manualChassis parts manualOriginal ...

Canada
KTM
/
690 Enduro
Year:
2008
XXXX KTM XX SX in excellent condition! One owner, very meticulously maintained. Fresh motor including crank. The crank did not go out, just replaced as preventative maintenance. Has XX hours on the fresh motor. FMC Racing suspension set for XX lb rider. Perfect bike for any X-XX year old rider from ...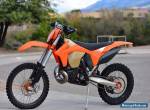 XXXX ktm xcXXX, Recluse clutch, FMF Stealth silencer, FMF Gnarly Pipe, Renthal Twin Ring sprocket, skid plate, KTM hand guards, TM Designs chain guideRebuilt engine has approx. XX hours, Electric Starter does not work (it has new starter and battery)Good condition Michelin SXX xc tiresThis is ...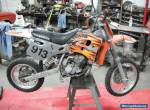 THIS IS KTM XX SX, BOUGHT THIS ON SALE AND IT DOES NOT HAVE ANY SPARK, DID GET SPARE STATOR FOR IT BUT IT WAS USED ONE AND STILL DOES NOT HAVE SPARK. THE BIKE IS IN OK SHAPE, LITTLE SCRATCHED UP. IT DOES HAVE GOOD COMPRESSION AND NEW CARB ON IT. THE STICKER IS STARTING TO COME OFF SO CANT READ THE WHOLE VIN ...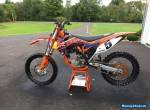 very nice XXXX X/X with XX hours on Vet owned .I cant ride anymore need hip replacement call XXX XXX XXXX thanks ...