Boss Hoss Bhc-3 for Sale in Canada
There are
2
Boss Hoss Bhc-3
for sale today. Latest new, used and classic
Boss Hoss Bhc-3
motorcycles offered in listings in the Canada.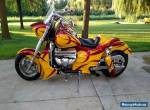 content="28900.0"US $28,900.00
XXXX Boss HossMotorcycle. Customized by Boss Hoss Concepts (BHC)Body parts include:BHC Gas Tank(with Nitrous Controller built in Tank)BHC Gauge MountsBHC VenomBarsBHC Radiator Shroud, Front and Rear Fender, & Side Covers.Chrome RollBars, Windshield.Engine and Transmission ...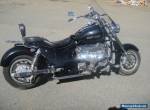 content="10600.0"US $10,600.00
XXXX Boss Hoss BHC-X Chevy XXX ci ZZX Motor rated XXX Hp. with factory cam kit (XXX Hp.) Black with chrome accents, Factory windshield, speed automatic With Reverse. Gauges, Tachometer, Water Temp, Oil pressure, Alternator Charging, and Odometer. Bought this bike years ago out of Montgomery ...