Hyosung Aquilla for Sale in Australia
There are
2
Hyosung Aquilla
for sale today. Latest new, used and classic
Hyosung Aquilla
motorcycles offered in listings in the Australia.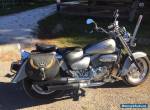 For sale my reliable little cruiser due to upgrade to bigger bike. Surprising power on the freeway if you need for XXX. Cheap to run and insure. Perfect for new LAMS rider.Bike is my first ever ride and has never let me down. Plenty of new mechanical and cosmetic bits:Brand new tires, new chain and ...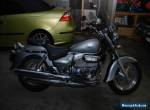 Hyosung Aquilla GVXXX Great Learner bike Needs front tyre for RWCReg Till XX/XX/XX $XXXX.XX as is or X,XXX.XX with XX months reg and RWCBike is in Seaford Vic Please no interstate buyers XXXXXXXXXX ...