Husqvarna for Sale in Australia
There are
49
Husqvarna motorcycles
for sale today. Latest new, used and classic
Husqvarna
motorcycles offered in listings in the Australia.
One owner, used at couple of club events, mainly at home and ride park. Fresh top end. Recently converted to big wheel, new SM PRO rims & Dunlop's. VHM head, flex levers. ...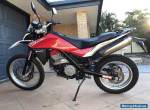 XXXX HUSQVARNA XXX TERRA, GREAT BIKE NO ISSUES, EXCELLENT CONDITION, NEVER RIDDEN ON THE DIRT, IT HAS CUSTOM LEATHER SEAT, SUSPENSION MODS, BASH PLATE, RACK, KEYS, IT LOOKS AS GOOD UP CLOSE AS IN THE PHOTO'S, WELL MAINTAINED AND ALWAYS GARAGED.. ...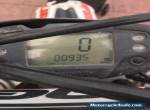 Husky teXXX XX model Bike is in good running condition just serviced changed oil and oil filter ) Fresh fork seals hasn't been ridden once Needs new plasticscomes with rec reg till later this year Has box full of spares including full carb ,rear shock and spring front and rear breaks calipers and ...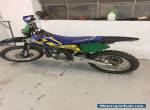 XXXX Husqvarna WRXXXOriginally purchased because thought big bore Xstroke would be fun, turns out its far more bike than need for the riding do.So time to move it on to fund other toys.Good condition for its age.Great easy restorer or just rec reg it and ride as is.Runs and handles great, does not ...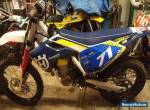 XXXX Husqvarna Fc XXX Go`s well has few scratches on front guard never had any problems. For any information message or call Glenn XXXXXXXXXX ...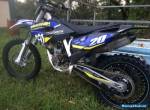 Rebuilt engineported headhigh comp piston makes big powerX hrs on engine, good condition alroundoil and air filter changed every ride ...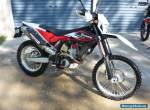 XXXX Husqvarna TEXXX in very good used condition. Has had forks and shockie worked over by MPE. Extras include Bark Busters, Alloy sump guard,alloy radiator guard, new rear sprocket, modified side stand etc. Registered until XX-XX-XX and has XXXX km. will get Roadworthy cert on sale. Nothing to ...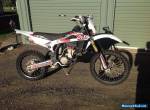 XXXX kms, serviced regularly, valves just done, comes with original plastics, spare rear sprockets and wheel bearings, Meo decal kit, Steg Pegs, Rad Guards, Bash Plate, wide foot pegs, FMF Pipe, all gear for RWC. Currently Registered ...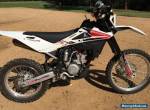 XXXX Husqvarna TE XXX road registerable with compliance plate.Has quiet exhaust and all the road legal gear.Has never been ridden hard. Older rider owner. In very good condition and may suit new bike buyer.Sold by Full Throttle Motorcycles in XXXX the dealer for these bikes in Springwood. Has ...
FOR SALE XXXX HUSQVARNA TCXX SMALL WHEEL -mcd oval bored carby-ported cylinder -polished transmission -mcd suspension-XXhrs$X,XXX.XX ONOPM me for detailsOn XXXXXXXXXXNo swaps ...