BSA for Sale in Australia
There are
13
BSA motorcycles
for sale today. Latest new, used and classic
BSA
motorcycles offered in listings in the Australia.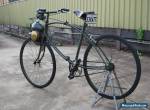 XXXX BSA Airborne Folding Paratrooper with XXcc stroke cyclemotor. This is Xnd pattern model, serial number RXXXXX and fitted with the rare cyclemotor. lovely piece of WWII militaria.BSA airborne paratroopers saw action by British and Canadian infantry on the invasion of Normandy, France ...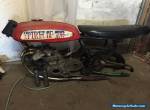 BSA ROCKET CAFE RACER PROJECTTHIS IS MODIFIED XX-XX BSA ROCKET FRAME WITH RX CASES AND XXXcc BIG BORE BARRELLS.A GREAT PROJECT FOR SOMEONE ... This bike is fully restored and engine rebuilt and so runs like clock.Everything is spot on although speedo has stuck.......I have had it in collection pending getting licence to ride motorbike..... but now realise this wont happen therefore now selling.I am in Geelong and am happy to meet with ...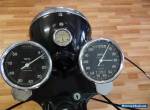 BSA SUPER ROCKET registered as XXXX super rocket Frame #CAXXXXX Engine #DAXXRXXX (genuine XXXX engine) bike is in excellent condition, motor and gearbox excellent ,tacho and speedo fully reconditioned chrome good, Dunlop rims, good later model front brake plate, original brake plate and ...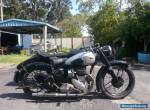 This bike was purchased from the previous owner who owned the bike for over XX years before fitting the sidecar. have only had it for two years and have only ridden it about six times. She starts up on the Xnd or Xrd kick and pulls the sidecar quite well. Was on club registration until August. Sidecar ...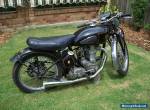 fully restored and running, comes with near compltee spare motor and gear box XX in and XXin spare front wheels as the XX is fitted, spare rear wheels XXin spare complete clutch assemble and other spares will not split up so sold as lot only ...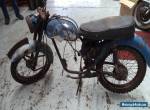 Here is collection of parts and rolling chassis to suit BSA Bantam, various years for partsThe tank and rims on the bike are rusted and unusable, all other parts are as you see in the picturesPlease ask any question, can dismantle the bike and pack it plus the parts into smaller parcelI can only guess ...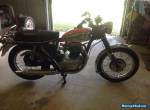 XXXX AXX Lightning Good overall condition just had top end rebuild Still standard bore new valves and guides proper left and right monobloc carburetors as it should have. New chain, wheel bearings,brake linings,Tri spark ignition fitted and uses dual fire type coil.Has some scratches on fuel ...
great bike with all the British problems sorted.I have had this bike for six or seven years.starting with very original good condition bike.in this time the engine has been fully rebuilt by BSA specialist with low compression pistons for reliability also mallary ignition and new carby.bike is ...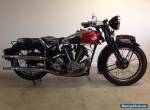 For Sale BSA XXXX model YXX OHV this motorcycle has been fully restored some XX years ago, it is total original bike.It has been used as rally bike over these years show quality restoration these pre war OHV Twins are in demand will ship world wide.For more photos or information please call Ian XXXX ...