KTM for Sale in Australia
There are
207
KTM motorcycles
for sale today. Latest new, used and classic
KTM
motorcycles offered in listings in the Australia. See such popular models like
KTM EXC, KTM SX, KTM Adventure,
and more.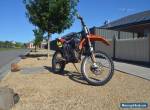 KTM XXX SXperfect condition new tyreslooked after this bike belonged to one of the top XX XXX riders in australia this bike is quick and will keep lifting at any speeed way to much power for me as an old XXyr old......see pic's ...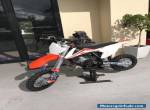 For Sale is our sons KTM XXDone XXhrs and had top end rebuild at XX hrs, the oil gets changed after every ride selling due to upgradedAny questions call Coz XXXX XXXXXX ...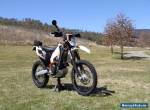 KTM XXX Enduro XXXX in exellent condition X months rego Rally Raid evo tank kit Rally Raid engineering custom carbon fibre radiator shrouds and tank gaurds Rally Raid radiator support braces Rally Raid stainless radiator screen Barkbusters B&B bash Plate B&B sprocket gaurd ...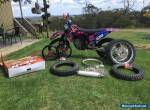 XXXX KTM XXX sx. Methanol. lot of work done to motor. New radiators and new water punp. Top end rebuild hours ago. New brake pads. New chain and sprocket. New levers. New bling kit. Yoshi pipe. Brand new set SM Pro Platinum wheels with new discs. Brand new tyres. Set of standard wheels with new tyres. ...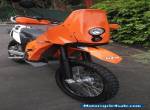 ...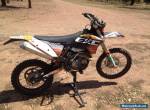 Excellent condition and well maintained bike.Extras include;Bark bustersXXT front XXT rear super sprocketGPS socket behind head lightHeated hand grids (low,high,off switch)Choice SuspensionScrub Heavy Duty Decal KitDunlop Geomax mx XXF front tyre XX% treadDunlop Geomax mx XX rear tyre ...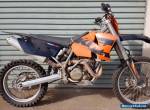 Ktm XXX sxfNeeds tlc Brakes need repairsRear wheel bearings need replacingTyres are poor conditionSmall tear in seat coverEverything else is pretty good including the engineReserve the right to end auction due to listed elsewherePay on pick up ...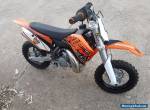 FOR SALE KTM XXSX MINI XXXXTHIS BIKE HAS ONLY DONE XX HOURS FROM NEW BIKE PRESENTS LIKE NEW ONLY WEAR ON THE TYRESI CAN HELP WITH INTERSTATE TRANSPORT BUY IS TO COVER ALL COST OF FREIGHT AND IS NOT INCLUDED IN THE BUY IT NOW PRICE ...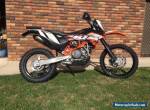 KTM XXX Enduro - Excellent Condition. Well maintained. Neat & tidy.XXXX model with only XXXX km on speedo Registration until XX/XX/XX (Xmths)Extras on bike include:Akrapovic exhaust, Evo Cam, Unifilter insert and pre filter, Seat Concepts comfortable low profile seat, KTM power ...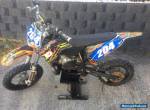 XXXX KTM XXsx FOR SALE.THE BIKE IS IN GOOD CONDITION AND IS BEING SOLD DUE TO MY SON OUTGROWING IT. WE HAVE OWNED THE BIKE FOR ABOUT YEARS AND IT HAS BEEN GREAT BIKE.IT WAS BOUGHT FROM MOTOR MECHANIC WHOSE SON RACED AND WAS TOTALLY STRIPPED AND BUILT FOR RACING. WHEN PURCHASED THE BIKE WAS TOLD IT HAS BEEN ...