Yamaha for Sale in Australia
There are
802
Yamaha motorcycles
for sale today. Latest new, used and classic
Yamaha
motorcycles offered in listings in the Australia. See such popular models like
Yamaha YZ, Yamaha WR, Yamaha YZF, Yamaha TT, Yamaha FZ
and more.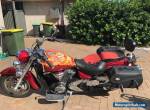 OWNER XXXX XVSXXXX CRUISER WITH HEAPS OF MONEY SPENT.DEFINATLEY ONE OF KINDONLY XXXXKLMS REGO TILL NOV XXXXTHIS BIKE IS AS NEW.BIKE CAN BE INSPECTED AT JORDAN SPRINGS (PENRITH)OPEN TO OFFERS BUT NO SWAPSGENUINE BUYERS ONLY PLEASE NO JOYRIDERSONLY SELLING AS HAVE TO MANY TOYS. ...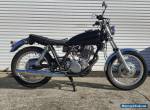 have imported many of these great bikes and this particular SRXXX is in very good condition. Runs very well, looks and sounds great and joy to ride. Serviced and New tyres fitted.Current QLD single seat RegoTransport Arranged Australia Wide. Slacks Creek Brisbane to Sydney $XXX to Melbourne ...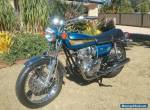 This bike has had nut and bolt restoration you name it it has been replaced or restored. I have purchased as many nos parts as could find and the rest from Mikes XS.The bore is std size with rings from Japan. You can't buy one of these bikes in good original condition and restore it to this standard for ...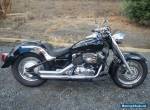 YAMAHA XVSXXXLAMS APPROVED BOBBERLOOKS MAD!SOUNDS AWESOMEBARGAIN $XXXXABLE TO FREIGHT AUSTRALIA WIDENO PAY PALView by appointmentCASHXMOTORCYCLESX Olive Grove Ringwood, VIC XXXXXXXX XXX XXXLMCT XXXXX ...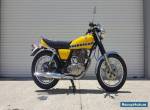 This SRXXX is in very good running order. Starts easily and runs very well. Over all this bike looks great.Paint is spotless.Yes this bike has been Imported from Japan and has its Import Approval. Can be registered in any State.Transport arranged Australia wide at competitive rated. Just send ...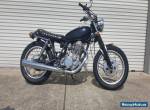 This very cool SRXXX has just been imported from Japan and is in good running condition. New tyres just fitted, new steering head bearings.Can be registered in Australia. Sold with Import Approval.Transport Arranged Australia wide at competitive prices driveway to driveway....Other SR's to ...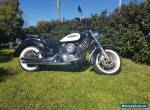 XXXX Yamaha XVSXXXXA Classic Final Edition. XXXX Yamaha Star XXXXA Final Edition. Registration through to September XXXX. XX,XXX km's.Origianl one owner and rider. Has been my daily ride. Only selling, as have purchased another and not required. Open to genuine offers.Fitted with Cobra ...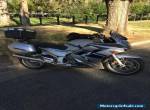 serviced every XXXXkm , xlnt condition comes with bagster tank bra and bag extra screens of different sizes and heights new pilot tyres NSW rego till nov XXXX give me call if you want any other info . XXXXXXXXXX. bike is in Lavington NSW Albury )advertised eles where so could be removed at any time . ...
Yamaha truly know how to make comfortable classic bike and the V-Star is prime example. With powerful XXXXcc V-Twin engine, you can easily and with little vibration coast along the highway with ease and with the added sports screen, its made for smooth sailing.Call or come see us today Fast, easy ...
XVS XXXXcc YAMAHAPLATED XX/XXXX XXXX MODELHAS SCREEN SISSY BAR AND PIPESINC REG AND RWCLOOKS SOUNDS AND RIDES AS NEWABLE TO FREIGHT AUSTRALIA WIDENO PAY PALView by appointmentCASHXMOTORCYCLESX Olive Grove Ringwood, VIC XXXXXXXX XXX XXXLMCT XXXXX ...