Ducati for Sale in Australia
There are
118
Ducati motorcycles
for sale today. Latest new, used and classic
Ducati
motorcycles offered in listings in the Australia. See such popular models like
Ducati Monster, Ducati Hypermotard, Ducati Multistrada, Ducati Supersport,
and more.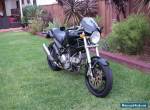 On offer is my pride and joy. decision to start my own business has driven the need for funds so something has to go! The bike is XXXXDS Special and is the last of its type. The bike is in excellent condition for its age and has Termignoni titanium pipes which give beautiful Ducati note. Other upgrades ...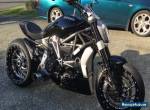 XXXX Ducati Diavel near XXk as it sitsHas only XXXXKm's on it had it since newFull Exhaust system on it and tuned to suitDucati Performance wheelsNot mark on it perfect bike for everything given XXX HP.Can assist with interstate transportHave all original stuff to go with sale for right ...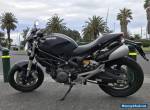 Great bike, almost as new. XXXX Ducati Monster XXX. One owner. In excellent condition. 'LEARNER APPROVED. Registered until September XXXX. Unfortunately, don't have time to used it much. It is great for busy Melbourne traffic & parking conditions. ...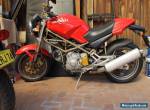 XXXX RED DUCATI MONSTER XXX.EXCELLENT ORIGINAL CONDITION.UNMODIFIED.STARTS FIRST GO ANDRIDES LIKE DREAM.GOOD TIRES,NEW AGM BATTERY,RECENT OIL SERVICE.SOME MINOR SCRATCHES/BLEMISHESCOMMENSURATE WITH AGE.REGISTRATION DUE THIS MONTH.THESE EARLY ONES ARE COLLECTABLE.IT HAS THE ...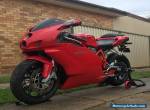 XXXX Ducati XXX XXXXXkmsNew tyresNew chain and sprocketsRecent service including timing beltsPower commanderAftermarket seat and originalSingle rider rear seat attachment plus original rear seatSmoke indicators, original orange includedFixed the common fuel pump wiring issue with ...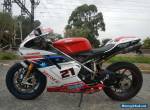 DUCATI XXXX IMPORTBUILT XXXX Compliance XX/XXXXonly XX,XXX ks HAS AFTERMARKET XXXX FAIRINGS This bike is trick one with the lotSOUNDS AND RIDES AWESOMEreg and RWC Bargain @$XX,XXX ABLE TO FREIGHT AUSTRALIA WIDENO PAY PALView by appointmentCASHXMOTORCYCLESX Olive Grove Ringwood, VIC ...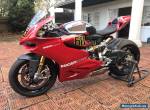 Ducati XXXXs ex Craig Mcmartin race bike. Full of Ducati corse goodies World Super stock full termi exhaust systemDucati Corse wiring harness, ecu, black box unit.Lighten flywheel Ohlins TTX rear shock. Ohlins front shocks Ducati Corse rear sets Ducati XXXXs ex Craig Mcmartin race bike. Full of ...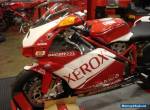 This is an extremely rare opportunity to own an extremely rare machine This bike has never been registered nor ridden outside of its compulsory engineered ride XXkm as stated in the warranty book. This machines build of XX adds additional significanceThe XXXR contentiously divided the Ducati ...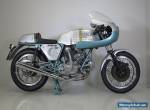 ...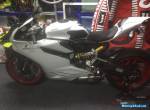 Hi, am considering selling my pride and joy XXXX Ducati XXX Panigale in arctic white. This bike is both immaculate and spectacular and would argue probably the best equipped in the country. It has not been dropped or done track day. bought this bike new from Frasers Motorcycles in November XXXX with ...