Kymco for Sale in Australia
There are
4
Kymco motorcycles
for sale today. Latest new, used and classic
Kymco
motorcycles offered in listings in the Australia.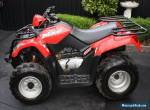 "KYMCO MXU XXX" QUAD BIKEXXYR OLD HAS DECIDED TO GET MOTOR/BIKE!!!SO ONLY AFTER XYR OF WEEKEND EASY RIDING HE IS WILLING TO SELLTO GET HIS WHEELER..THIS BIKE IS OUTSTANDING IN CONDITION AND PERFORMANCENEVER HAD PROBLEM WITH IT.IT DOES HAVE LOOSE WIRE WHICH IS DRAINING THE ...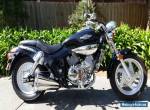 Up for auction is my Kymco Venox XXXcc XXXX.I brought this bike for my husband and to get our licence on, but due to moving house we can no longer own road bike as we have XXklm of dirt road, and would like to invest in other interests.This bike has been very well looked after, it has new chain and ...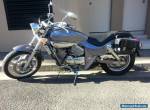 KYMCO VENOX XXXX MANUFACTURED XX/XXXXINCLUDES-REGO TILL XX.XX.XXXXSADDLE BAGSJACKETHELMETONE OWNER NICE RIDE WELL LOOKED AFTER FOR AGElocal pick up PLEASE MESSAGE TO INSPECT ...
For regretful sale is my brothers Kymco XXXcc sports bike, top of the range for the Kymco brand. Like the Honda CBR XXX but quicker and bigger tyres etc.. is it in exceptional condition with only XXXX k's from new. Has had its early services and is ready to go, comes with months rego and RWC certificate ...