Hyosung for Sale
There are
54
Hyosung motorcycles
for sale today. Latest new, used and classic
Hyosung
motorcycles offered in listings in the United States, Canada, Australia and United Kingdom.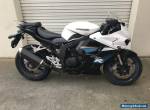 For sale: XXXX Hyosung GTXXXRIt's complete bike that looks good for it's age and with normal wear and tear.Comes with sports exhaust!Front tire and brakes are good and rear tires is fair. There are no tears in the seat, dents, or damage to pipes, guards, etc.The engine turns over, but doesn't quite ...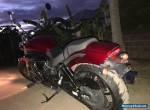 Selling my loved XXXX Aquila GC XXX due to going overseas, beautiful bike with power and sexy look also Lams Approved Comes with :X Month fresh rego will do it after deposit paid )RWCNew Rear tire just fitted for RWCNew battery just fitted New Helmet Happy to help with transport at buyers cost Text me ...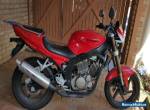 Low K's (XX,XXX) owned by FIFO worker. Same frame size as the XXX so suit medium to tall riders. Pick up only. Low price for quick sale need to buy car. COD. ...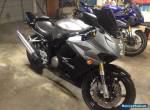 Hyosung GTXXXR....No rego or rwc but will pass rwc no problems,Tyres XX%Excellent condition,Always been serviced every XXXXklm,Nothing to spend bar RWC and rego.Lams approved, great learners bike,Will not disappoint.Looks great.Only selling since have upgraded and have no use for it ...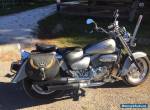 For sale my reliable little cruiser due to upgrade to bigger bike. Surprising power on the freeway if you need for XXX. Cheap to run and insure. Perfect for new LAMS rider.Bike is my first ever ride and has never let me down. Plenty of new mechanical and cosmetic bits:Brand new tires, new chain and ...
This XXXcc Cruiser easily keeps up with and challenges other XXXcc Cruisers such as Suzuki, Honda and Kawasaki. Its acceleration and cruising capabilities make it pleasure to ride. Known as the STX in the USA, it comes with long list of accessories such as Windscreen, Heel Toe Clutch, Foot Plates, ...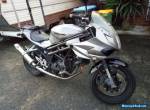 Up for regrettable sale is my XXXX Hyosung GTXXXs road bike. It's an EFi model and is LAMS Approved. Rego Expires August XXXX; sold as is no roadworthy.It has been my first bike for the last four years and was great bike to learn on, despite being heavier than other LAMS bikes. It's got lot more power ...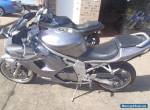 FOR SALE XXXX HYOSUNG GTXXXR COMPLETE BIKE XX,XXXKLMS, COMES WITH STANDARD PIPE SPARE) COMES WITH BLUE SLIP GOOD CONDITION LEARNER LEGAL INSPECTIONS WELCOME PICK UP ST MARYS $XXXX ...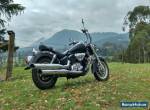 Up for sale is XXXX Hyosung GVXXX classic, lams (learner approved) model. Runs great, low kays (XX,XXX) clear title.Reg is expried and no RWC at this price, offers will be considered.I have spoken to my mechanic and if he was to give RWC it would need front tyre and rear brake pads, if the buyer wants ...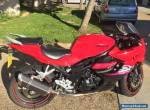 Bike is in great condition and has super low KMs (less than X,XXX kms since new). Real head turner. One of the fastest and most powerful legal LAMS approved bikes. Upgraded exhaust, so it sounds amazing!I bought it thinking would ride, but decided bikes are not for me instead sticking to fast cars ...