Husqvarna for Sale
There are
76
Husqvarna motorcycles
for sale today. Latest new, used and classic
Husqvarna
motorcycles offered in listings in the United States, Canada, Australia and United Kingdom.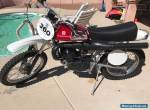 ...

United States
Husqvarna
/
Other
Year:
1977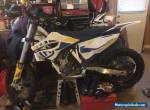 almost new to many extra's to list. Set up for single track ...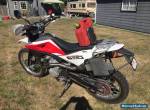 Bike is in Exhalent Condition, many extras, Seat Concepts Seat, HDB Bar protectors FMF Exhaust, Husqvarna rear Rack, folding shifter, rear red sprocket, Extra new air filter, Alum. Skid Plate, Custom Side Stand, Fork Air Bleeder's, Wide Foot Pegs, Wolf Man rear tail Bag, Tank Bag, Aux. Fuel Tank, ...

United States
Husqvarna
/
TE630
Year:
2011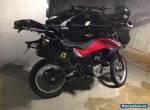 Low mileage, excellent condition Husky. Time to clear the stables bit as have too many bikes. Crash bars, Kako cruise, wider foot pegs, Madstad windshield, Pannier racks for soft luggage. This is no excuses motorcycle ready for any adventure ride. Always stored in heated garage. Bags and custom ...

Canada
Husqvarna
/
TR650 TERRA
Year:
2013
NEW XXXX Husqvarna FXXXX. Electric start, kick stand, big tank, spark arrester, hand guards, hour meter and semi-wide ratio speed gear box. These are great bikes. We have sold dozens of them and have had ZERO problems. Save over $XXXX off MSRP. We only have couple of these FXXXX's left. NO EXTRA FEES ...

United States
Husqvarna
/
FX450
Year:
2017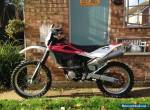 Husqvarna te XXXr with running issues Running issues some times it will start easily other times not.The bike is mechanically sound. It has had piston and barrel checked, valve clearances are all good. New fuel pump, new starter motor. It may be an electrical or fuel fault do not know. Have ...

United Kingdom
Husqvarna
/
TE
Year:
2013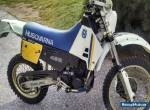 Bike is XXXX and has been used so does have scratches and such please look at pictures careful and ask If need to the mileage is not right odometer not working it reads XX miles and no thats wrong the bike runs great shifts great really needs nothing chain and sprockets like new rear tire good front is ...

United States
Husqvarna
/
Wr 430
Year:
1987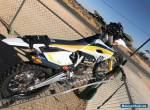 purchased new XX months ago,only ridded for approx two hours desert only,bike is absolutely mint!Ive added the following:new fmf titanium pipe hourseclipse off road racing lightskid platepro moto kickstandtool pack on rearhusqvarna tool pouch beltI have all stock parts,manuals etcim only ...

United States
Husqvarna
/
fc 350
Year:
2015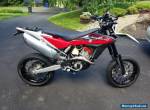 ...

United States
Husqvarna
/
TE511
Year:
2012
Estate sale, lots to sell. XX state street legal dirt dike, ready for summer. Husky wheelie monster in perfect condition. Starts easy, runs perfect, very low mikes. After market seat is very comfy to the back side. After market headlight. New sm front fender. New hand guards. New factory digital ...