Kawasaki Kh250 for Sale in United Kingdom
There are
3
Kawasaki Kh250
for sale today. Latest new, used and classic
Kawasaki Kh250
motorcycles offered in listings in the United Kingdom. See such popular models like
Kawasaki KX, Kawasaki Ninja, Kawasaki KXF, Kawasaki KDX, Kawasaki KLX
and more.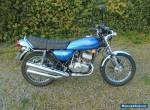 XXXX Kawasaki KHXXX This bike has been fully restored to show standard. Completed in XXXX the bike has done less than XXXX miles since and is in excellent condition. It has the original engine which has been fully rebuilt. The mileage of XXXXX believe was correct as it was still on standard bore ...

United Kingdom
Kawasaki
/
KH250
Year:
1977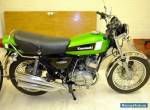 Firstly, thank you to everybody who bid on my initial listing, and will bid again. stopped that listing because there was to many faults in the listing & discription, and also, since first submiting the listing, which Ebay rules dont allow to be changed have since cleaned, inspected, ...

United Kingdom
Kawasaki
/
KH250 B4
Year:
1982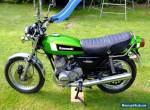 MY XXXX KAWASAKI XXX TRIPLE, UK SPEC (NOT AN IMPORT). LOADS OF WORK DONE TO THE BIKE BY CLASSIC MOTORCYCLES IN DROITWICH. ENGINE REBORED, BARRELS VAPOUR BLASTED, CARBS SONICALLY CLEANED AND REBUILT WITH NEW JETS ETC, NEW CLUTCH PLATES, FRONT FORKS HARD CHROMED AND NEW SEALS. ALL CHROME PARTS ...

United Kingdom
Kawasaki
/
kh250
Year:
1982