Kawasaki for Sale in United Kingdom
There are
151
Kawasaki motorcycles
for sale today. Latest new, used and classic
Kawasaki
motorcycles offered in listings in the United Kingdom. See such popular models like
Kawasaki KX, Kawasaki Ninja, Kawasaki KXF, Kawasaki KDX, Kawasaki KLX
and more.
This motorcycle is Kawasaki VNXXX BEFA Classic Special Edition, with XXXX miles on the clock. It was first registered on XX/May/XXXX. The bike has full stamped-up service history, and is data-tagged. The photos show that the bike has numerous good quality extras, including day running lights, ...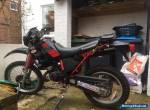 XXXX Kawasaki KMX XXX in good condition for its age. The bike has the usual scuffs and scratches associated with its age. The bike has been stored and unused for the past few years but started and ran well with new fuel. new steering barrel has been fitted due to losing the original. Replacement fuel ...

United Kingdom
Kawasaki
/
KMX
Year:
1988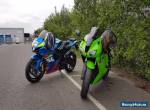 Kawasaki ninja zxXr XXXX XXplate in mint condition, low miles of XXk, mot til Feb XXXX, couple of nice extras with sports short levers, rear hugger, scorpion exhaust which sounds amazing when going through the revs. Full service history, just had new tyres (Bridgestone), comes with all manuals ...

United Kingdom
Kawasaki
/
Zx6r
Year:
2008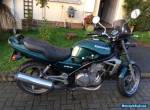 This bike is in good condition and is an excellent runner.I purchased the bike in XXXX. have since had new sprocket and chain and new rear tyre fitted.New mirrors have also been fitted.There is small dent on the petrol tank see picture ).The bike is lightweight and so suitable for both male and ...

United Kingdom
Kawasaki
/
ER-5
Year:
1999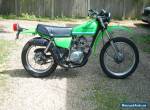 ...

United Kingdom
Kawasaki
/
KL250 A1
Year:
1978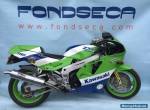 XXXX KAWASAKI ZXRXXX HX.UNTIL RECENTLY WAS PART OF KAWASAKI COLLECTION AND WAS MUCH CERISHED EXAMPLE.IS IN GOOD MECHANICAL CONDITION AND WILL BE MOT'D AT THE END OF THE AUCTION.THE BIKE COMES WITH LOTS OF DETAILED PAPERWORK THAT INCLUDES XX OLD MOT CERTIFICATES AND INVOICES/RECEIPTS THAT TOTAL ...

United Kingdom
Kawasaki
/
ZXR750 H1
Year:
1990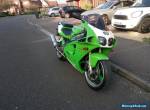 welcome on my auktion. for sale my zxXr ninja, bike in very good condition to his age. new tires front and rear [michelin pilot pro] new oil and filter /rear shock absorber /carbs was balanced last september rims and swing arm polished. ART lightweight exh aust system. custom zxXr green gripsgood ...

United Kingdom
Kawasaki
/
zx7r
Year:
1999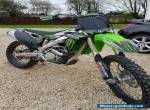 This bike is in good condition and rides great as it should. It has several upgrades blue samco hoses, fuel cap, timing covers ect. oil changed every ride well loved and maintained.This bike has not been ridden since top end refurbished piston valves ect all suspension bushes seals and oil front ...

United Kingdom
Kawasaki
/
kx
Year:
2013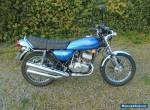 XXXX Kawasaki KHXXX This bike has been fully restored to show standard. Completed in XXXX the bike has done less than XXXX miles since and is in excellent condition. It has the original engine which has been fully rebuilt. The mileage of XXXXX believe was correct as it was still on standard bore ...

United Kingdom
Kawasaki
/
KH250
Year:
1977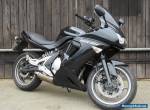 **SPARES OR REPAIRS**NO RESERVE AUCTION**This auction for the sale of this KAWASAKI ERXF (EXXXX AXF)The bike is being sold as spares or repairs. It was taken in PX at main dealer and due to its mileage and condition we cannot retail it. The bike has covered approx XX,XXX miles! and has large amount of ...

United Kingdom
Kawasaki
/
EX 650 A7F
Year:
2007