Kawasaki KX for Sale in United Kingdom
There are
8
Kawasaki KX
for sale today. Latest new, used and classic
Kawasaki KX
motorcycles offered in listings in the United Kingdom. See such popular models like
Kawasaki KX, Kawasaki Ninja, Kawasaki KXF, Kawasaki KDX, Kawasaki KLX
and more.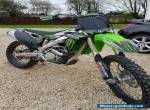 This bike is in good condition and rides great as it should. It has several upgrades blue samco hoses, fuel cap, timing covers ect. oil changed every ride well loved and maintained.This bike has not been ridden since top end refurbished piston valves ect all suspension bushes seals and oil front ...

United Kingdom
Kawasaki
/
kx
Year:
2013
Unrestored KAWASAKI KX XXX XXXX project bike , unrestored condition ,Pre XX Vintage Evo hard to find model.The bike is standing in for about XX years ,unfortunately no bottom end (engine) but comes with the original carburator and cylinder.All the wiring, cdi and bobine are with this bike.You can ...

United Kingdom
Kawasaki
/
KX 125
Year:
1980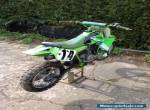 Kawasaki KXXX Fresh Engine Rebuild Very Little UseBought this while back for my daughter, as non runner, so I've completed full engine rebuild, new Piston, Rings, Bearings, Crank seals, Water Pump Seals Gaskets etc etc.Since completion she's rode the bike twice very very briefly. Even though ...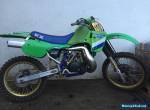 Kawasaki kx XXX XXXXnew piston,main bearings and sealsfmf front pipeHd gold rims,starts and runs fine,petrol tank ,could do with polishkickstart sometime slips,just the normal Kawasaki problem,havent got round to fixing yet,just needs new spring very fast evo class bikeselling due to lack ...

United Kingdom
Kawasaki
/
kx 500
Year:
1987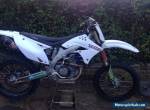 KAWASAKI KXFXXX XXXX EX LPE FACTORY BIKE PREPARED FOR BILLY MCKENZIEWE HAVE OWNED THIS BIKE SINCE XXXX AND HAVE MAINTAINED IT REGARDLESS OF COSTRACED BY JASPER NEWMAN IT HAS BEEN RELIABLE RACE WINNER STARTING EASILY AND PROVIDING SMOOTH LINEAR POWER MAKING IT POWERFUL BUT EASY TO RIDE ...

United Kingdom
Kawasaki
/
KXF450
Year:
2011
Nice Original KAWASAKI KX XXX XXXX Original condition Pre XX Vintage EvoThe bike is standing in my shop for about XX years bike was running but with not much compression ,so i removed the piston years ago,never placed new one back. Bike comes with spare tank, radiator cover, and extra cylinders, one ...

United Kingdom
Kawasaki
/
kx 250
Year:
1986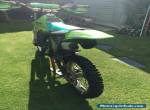 Here we have my sons motocross bike, he has now outgrown. Its not been raced and used very occasionally its in very good condition runs and rides fantastic, do not have buy it now price and please no Tyre kickers. This is genuine sale of sound bike. Any questions call XXXXX XXXXXX Happy bidding. ...

United Kingdom
Kawasaki
/
kx 100
Year:
1999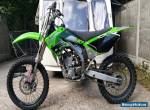 Here have my kxf XXX XX model. All round good bike just had new tyre spark plug and water pump seals. Had fresh oil every rides comes with spare bottle. It's had full rebuild XX weeks ago cost over ??XXX with recipes to poverty it and ice spent XXX on it in last weeks. It's had about XX hours of use since the ...

United Kingdom
Kawasaki
/
KXF250
Year:
2005