Suzuki DR for Sale in United Kingdom
There are
32
Suzuki DR
for sale today. Latest new, used and classic
Suzuki DR
motorcycles offered in listings in the United Kingdom. See such popular models like
Suzuki GS, Suzuki SV, Suzuki RM, Suzuki DR, Suzuki Bandit
and more.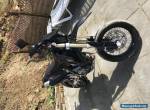 clean example and factory original Suzuki DRZ XXXsm XXXX XXXXX miles and mot due in September Runs and rides lovely with plenty of power Few age related marks as to be expected from bike this age X keys Completely original not modified at all Hpi clear Good tyresServiced months ago and is running as it ...

United Kingdom
Suzuki
/
DR-Z
Year:
2007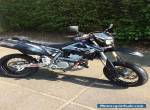 Suzuki drz XXXsm great bike everything working fine starts and runs absolutely perfect these bikes are pretty bullet proof as any Suzuki mechanic !!! few extras like red hoses & red brake wheel bobbins on both wheels & a tidy tall the chain guard has been removed but still have it ...

United Kingdom
Suzuki
/
DR-Z
Year:
2006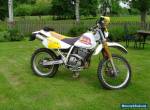 Standard Suzuki DRXXX Dual sport. Condition is excellent for bike of this age and what it is used for. Brakes recently replaced, new air filter,oil and tires . Some service history. Spare keys.This bike is ideal for the green laner or someone like me who enjoys trail riding with speed not the ...

United Kingdom
Suzuki
/
DR
Year:
1995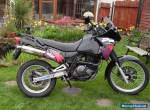 suzuki dr XXX rs oct XXXX XXXXX miles but being used so this may go up by small amount. mot until feb XXXX. Runs very well with no known problems and just passed an mot with no advisory.shows some marks as you would expect from bike of this age but generally very good.wirral phone for any additional info ...

United Kingdom
Suzuki
/
DR
Year:
1996
Suzuki DrzXXXFor sale is my DrzXXX. Genuine reason for sale due to not having the time to ride it anymore. bought the bike to do bit of light green laning I have probably used the bike X/X times in almost year so it is time to sell :(. I believe this is the higher power model of the drz range. think it is in ...

United Kingdom
Suzuki
/
DR-Z
Year:
2001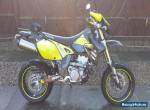 For sale is my Suzuki DRZXXXSM KX. bought the bike last year from Colin Appleyards with the intention of using the bike everyday for work but due to having car and another big bike just haven't been using it and need the space so it's time for it to go. It's been kept in my kitchen over winter. Just after ...

United Kingdom
Suzuki
/
DR-Z
Year:
2007
A great Enduro /trail bikeIt has an Enduro petrol tank Renthal Handle BarsPowder coated frame Nut and Bolt RebuildFor further information on this bike or any of the others in the picture please check more Ebay Adverts OR call XXXXX XXXXXX, Email [email protected] and check out our face ...

United Kingdom
Suzuki
/
DR
Year:
1993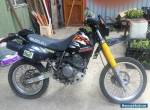 XXXX Suzuki DR XXXXXXXX milesWill come with full years MOTNew chain & sprocketsRecent service with new valves & shimsExhaust recently refurbished New fork gaitersRecent tyres Cheng Shin Cat Paw best balance for on & off roadToolbagOwned since XXXXCash on ...

United Kingdom
Suzuki
/
DR
Year:
1998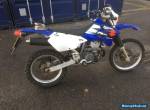 ...

United Kingdom
Suzuki
/
DR Z400 SY
Year:
2000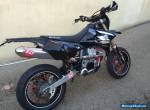 Suzuki DRZXXXSM XXXX KX (Halifax, West Yorkshire)I got back into motorcycling after many years and found this to be perfect.Inevitably I've upgraded to something bigger.In good looked after and serviced condition.Runs, looks and sounds absolutely spot on.MOT until August XXXXView in ...

United Kingdom
Suzuki
/
DRZ 400 SM K5
Year:
2006